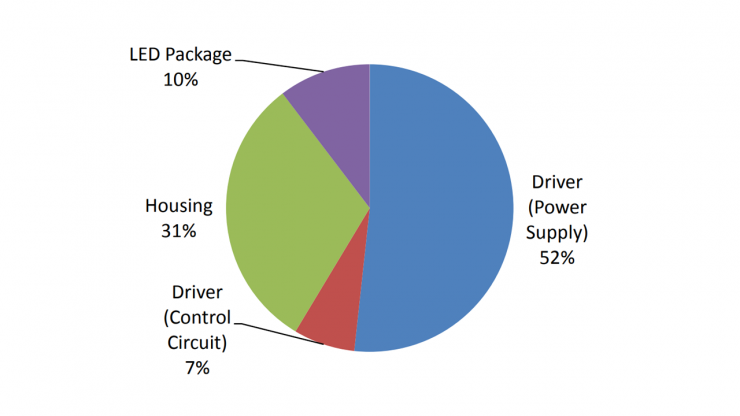 LED lighting manufacturers give their products approximately 50,000 – 60,000 hours life span. Manufacturers take lifetime prediction of LEDs as reference when they stated that. However there is something that forgotten, most of the failures in LED luminaires are originate from out of LEDs.
Inappropriate thermal management in LED lighting fixtures may cause lumen depreciation, optical distortion, and failure from power side in LEDs.
The life span of LED Luminaires is directly related to design, component choice, mounting, tests and even the packaging.
Appalachian Lighting Systems Company published a graphic which is based on a research on approximately 5,400 lighting fixtures.
The graphic is constituted based on field failure reports for outdoor lighting fixtures. As it seen, the rate of faults originating from the faults on LED packages is very low at 10% level. Most of the malfunctions emerged from power supply in other words LED driver side which is at 52% rate. This is followed by the body with 31% and the control circuit with 7%.
When we first met with LED lighting fixtures, in catalogues, the total light flux of the LEDs was written instead of the light output of the lighting fixtures. Although some companies are insist on this, most of the companies are now display the lumen values which are derived from measurement of photometric data in catalogues.
Similar situation can be seen in life span. Major manufacturers are indicate 15,000 – 20,000 hours of life span for their products and some of them still insist that their products have 50,000 – 60,000 hours of life span according to L70 life span. Sometimes consumers can make a mistake when they put those two products side by side.