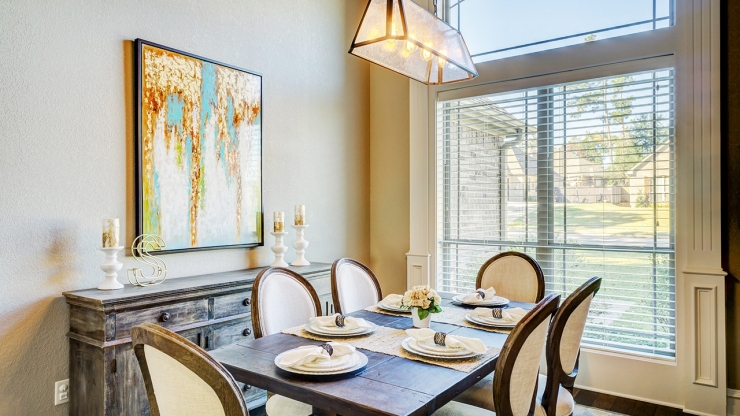 Dining rooms or dining tables are one of the important areas of the house where all members of the family meet and host the guests. Dining rooms are short of sunlight in the evening, so they need artificial lighting. This lighting is a good opportunity to complete the decor of the room and create the desired ambiance.
In the dining room, 150 lux light level is sufficient. According to the desired ambiance, light level can be reduced to 100 lux or increased to 200 lux. In the dining rooms, it is recommended to use light sources in warm white color, at 2700K color temperature.
In dining rooms, light sources are usually aligned with the center of the table. Chandeliers, pendant lighs, and linear lights are frequently preferred lighting elements. One chandelier will be enough to illuminate the table. Three or more pendant lighting can be also used. With LED technology, modern linear lights will be a stylish choice for illumination of rectangular tables.
The height of the lighting equipment to be positioned on the table is extremely important. The light source will be high enough to illuminate the entire table and not disturb those who sit at the table. At this point, attention should be paid for the glare problem. The light should not be disturbing to our guests. This will affect their comfort negatively.
You can use one or two floor lamps to support general lighting in the dining room. This additional lighting will also help you to complete your decoration.
Dining rooms are not used only for dinner. Sometimes you use the dining table to work, sometimes to drink coffee and chat with your friends. Therefore, you may need a control system that can change lighting according to your needs. You can control the brightness of light with the help of a simple dimmer. You can make it brighter or create a soft environment according to your needs. For example, you may need a brighter light when you eat your meal, and a more relaxing light when you drink your coffee after the meal.
If you want your meals to appeal to the eye, you should choose light sources with a high color rendering index (CRI) which is greater than 80.