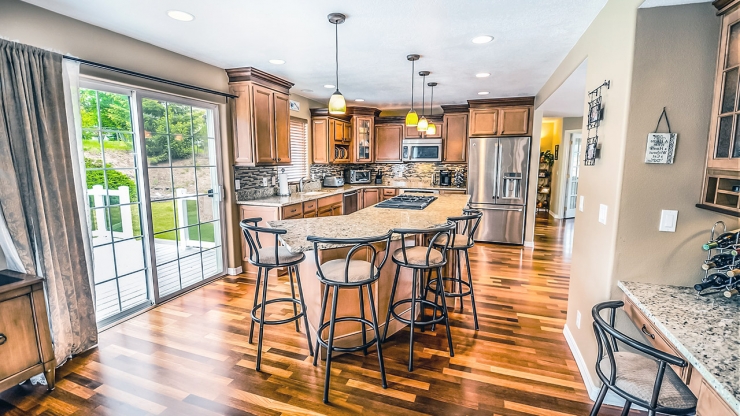 Kitchens are one of the most important areas of the house where delicious meals are made, eaten, the dishes are washed, women spend a large part of their time. Being clean is important when you do cooking. Sufficient lighting conditions must be established, in order to do the things cautiously. We should not compromise our comfort when we do this.
Kitchen lighting is also extremely important for safety. Insufficient lighting in kitchens may cause accidents especially if you deal with a sharp object like a knife.
Generally, 200 lux light level is sufficient for lighting at kitchens in the houses.
Choosing good looking chandeliers is not enough to create good lighting conditions. It is necessary for good planning and to implement this plan well.
In the selection of lighting equipment, it is necessary to make sure that it has a low glare value, it should show colors close to its true color and that it can be easily cleaned.
In kitchens, the whole space is tried to be illuminated with a single light source. However, in this case, especially in large kitchens, some areas are very bright, while some areas may be very dark. To solve this problem, pendant lighs, spotlights, and light strips can be used in different parts of the kitchen.
The light source used for general lighting can form a shadow on the counter when it is behind the person working on the counter. In such a situation, serious accidents can occur while cutting off foods such as bread, vegetables, and fruits on the counter with a knife. In order to prevent this, task lighting can be done with the help of light strips and spots to be placed under the cabinet and countertops in addition to general lighting.
The light strips placed above and below the counter will help to improve general lighting conditions. In addition, they will create a decorative and elegant look.
If you have a dining table in the kitchen and use this area frequently to eat, it may be important for you to adjust the brightness of the lights. For example, you may need bright light when you cook, eat, and wash dishes. However, after meals, you may need soft lights for a pleasant conversation.