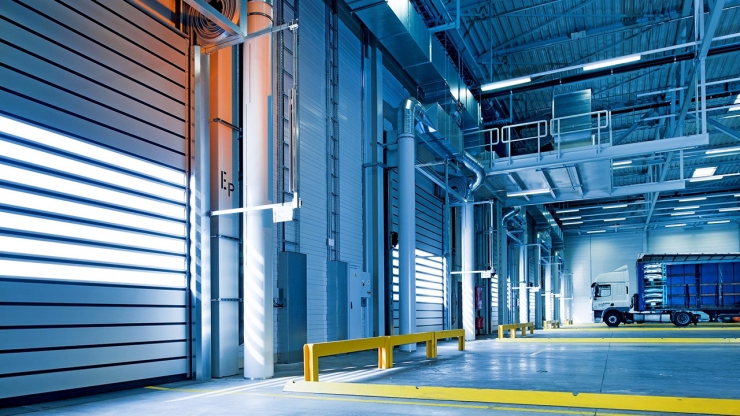 Good lighting in warehouses makes the shipment faster. It makes it easy to distinguish the products in the warehouse and helps prevent workplace accidents. So how to make a good warehouse lighting?
Warehouses are usually areas that are deprived of natural light and inside the warehouses, there are high shelves and narrow corridors. Therefore, light fixtures that designed especially for narrow light beam angle should be used.
Generally, in warehouses, 100 lux light level is sufficient. However, it can be changed according to the usage and the area. For instance, 200 lux light level may be needed to ensure that small products are recognized in the areas where they are stored. In cold storages, 300 lux light levels are recommended.
In addition to the general lighting of the storage area, it is also very important to lighting the shelves. In this way, the products can be easily placed on the shelves with the help of a forklift and it can then be found quickly when needed.
Vertical lighting is required to light the shelves in the warehouse at a minimum 50 lux light level.
Glare created by the lighting in the warehouse can be disturbing to the forklift driver and warehouse workers. As a result of work accidents and serious injuries may occur. Therefore, it is important to minimize glare caused by lighting.
High-bay or low-bay luminaires are used in the lighting of warehouses depending on the ceiling height. These light fixtures are designed to use in industrial facilities and they are resistant to water, dust, and moisture just like an outdoor lighting fixture.
The use of LED lighting in warehouses eliminates periodic tasks such as lamp control and replacement. LED lighting makes the products in the warehouse look closer to their true colors, emits less heat and saves up to 80 percent energy compared to conventional lighting systems.
Lighting costs are not limited to energy costs, the cost of operation and maintenance should be considered as an important element. When selecting lighting, the total costs of the system should be taken into consideration.
Warehouses are usually very large areas, and not all of this area is actively used at any time. Therefore, the use of motion detection sensors and intelligent lighting systems enables lighting to be activated in a regional time of need. In this way, unnecessary lighting is avoided and the energy saving rate is increased.
Written by Emre Yılmaz – Aydınlatma Portalı, Asya Traffic Inc.