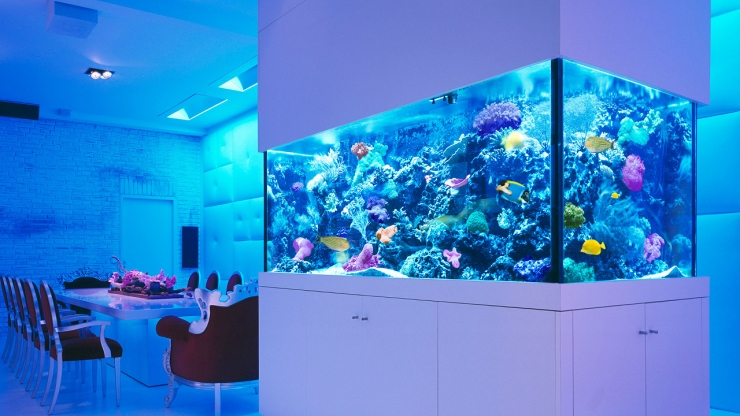 Aquarium lighting is not done to watch fish with pleasure. Aquarium lighting plays a much larger role than this. Lighting makes your fish healthy. In addition, it provides oxygen and energy that is necessary for the growth of plants and organisms in the aquarium. Lighting also offers opportunity to choose the atmosphere of the aquarium tank.
Lighting is required for aquarium for fishes and other organisms to grow up in a healthy way. Four things are required when choosing to light for the aquarium; watt, lumen, kelvin and PAR value.
Watt indicates the amount of energy used. Lumen indicates the brightness of the light, in other words, how much light the light source provides. Kelvin indicates the color of the light. The larger this value, the closer the light is to blue. The smaller the value, the closer it is to white, the less it is to yellow. PAR represent Photosynthetic Active Radiation. It refers to the light that is used for growing plants and algae.
Fluorescent and LED light sources are commonly used in aquarium lighting. LED lighting is frequently preferred in aquariums due to its slim design, cold operating temperature, and low cost. There is a wide choice of LEDs for all types of the water environment.
In aquariums with plants, light sources at 6500K-7500K color temperature are recommended for the healthy development of plants.
Unlike plants, fish do not need a light biologically. If there is only fish in an aquarium, light sources at a color temperature of 5500K-6500K can be used.
At a color temperature of 8000K and above, bluish-colored lights should only be used for saltwater aquariums.
The amount of light you need depends on the plants you choose in the aquarium. Generally, it can be said that 20-40 lumen per liter is sufficient. So, in this case, you need at least 800 lumens of light for an aquarium of 40 liters.
It is enough to keep the lights on for 10-12 hours a day to provide the light they need in the aquarium. A timer control switch can be used to control this routine.