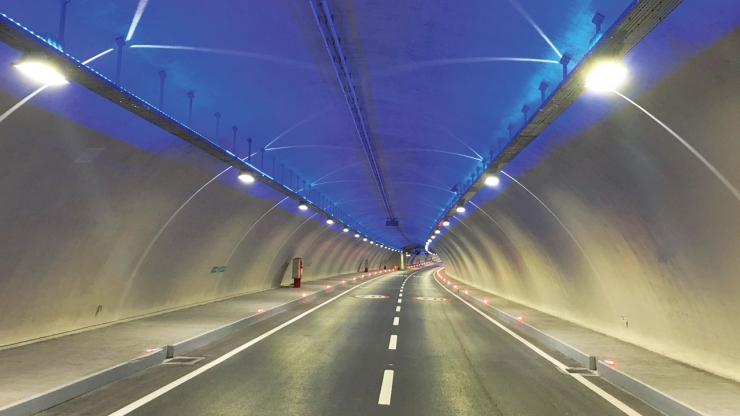 Lighting of the 15 km long Eurasia Tunnel which is opened to traffic on 22 December 2016 in Istanbul, was made by Croatian lighting designer Dean Skira and Italian lighting company iGuzzini.
The tender published during the construction of the tunnel, it represented a complementary lighting system design that would create a cheerful rhythm in the tunnel.
In order to achieve the desired effects Skira architectural lighting company used more than 2000 pieces iGuzzini lighting units called as Trick. The light blade that is called Trick creates white strips which are 5000K color temperature.
These lighting systems are supported by iGuzzini blue colored linear lights called as Ledtube. The combination of these two systems, represent the Turkish traditional values.
White light blades that divide the blue colored light are repeating itself in the entire tunnel with varying frequency and varying design.
In this project, iGuzzini distributor Kitoko also played an important role.
Skira, lighting designer of the Eurasia Tunnel, admits that he influenced by blue color of eye-shaped amulet that he has seen in everywhere in Istanbul. He also takes reference the Hand of Fatima and the wall arch which he sawed often in Istanbul to apply this color. He also mentioned that, in order to prevent distraction of drivers in the tunnel, they use the narrow platform on ceiling in best way. Skira also adds that the figures on the walls are narrowed in some areas and stretched in some areas according to speed limit.
We congratulate Dean Skira, iGuzzini and his distributor Kitoko for signing this project which has won many awards for Eurasia Tunnel.