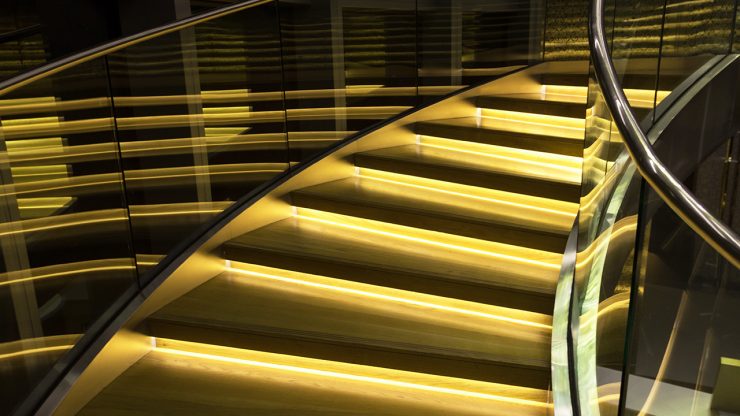 Lighting in stairs is extremely important in terms of safety. Dark spots and shadows may cause safety risks. For this reason necessary calculations must done before installations and suitability of the project should be checked after installations.
For stairs and stairwells, 100 lux light level is sufficient. In these areas, glare from lighting fixtures and windows should be minimized.
The on/off switches for controlling of the lighting are imbedded to history. Instead of this, motion, presence and sound detectors can be used. Lights can be switch on with these detectors while using stairs. However, it is highly recommended that the area should not be fully dark even stairs are not used.
Good stair lighting will add an inviting glow to your place. It may be a good choice to place light return point of the ceiling in L and U shaped staircases.
It is recommended that easy to access places should preferred where lighting fixtures are installed. Even though the LED lightings are long-lasting, the batteries must be periodically checked and replaced if necessary in emergency light kits.
If the placement of the lighting fixture is well planned, you can illuminate the entire area effectively with fewer lighting fixtures.
Continuous light line running from the edge of the steps or light strips to be placed on every step may help you to improve existing lighting conditions and add a decorative look. If you intend to go upstairs in the middle of the night, task lighting will guide you.