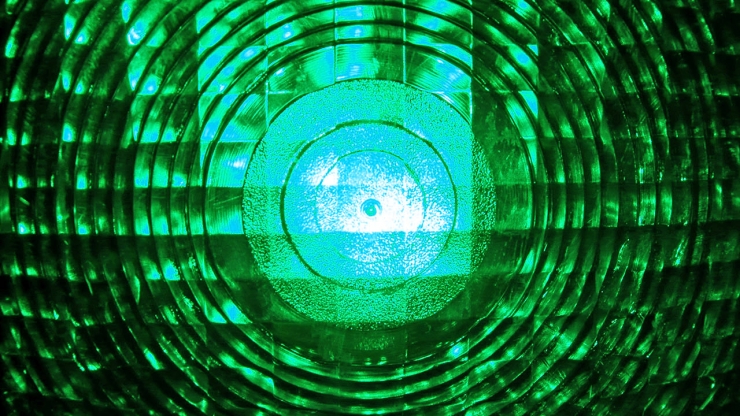 Fresnel lens is a special lens type using as condenser or light distributor. Generally, fresnel lens is thin sheet form, created with lots of rings on it and has short focus length.
Fresnel lens works just like a magnifying glass. The Fresnel lens has multiple concentric rings on it. The angle of each ring to the surface is different. In this way, it can focus on a single center by directing the light reaching different points to the surface at different angles.
Fresnel lenses are thinner according to conventional lenses and they are very light.
One side of a Fresnel lens has bulges in order to direct the light. Another side is as plane form. The light that reaches the bulges surface, reaches the other side of the lens by focusing at a close spot. Otherwise, the light emitted from the focus point can be distributed as parallel rays from the lens surface.
Fresnel lens can be used to distribute the light which is emitted from one center or to concentrate the lights emitted in a specific area in a single center. By changing the direction of the lens, it can be switched between the ways of use.
Fresnel lenses are used to homogenize the light that emits from spotlighting light sources. The light emitted from the center of the lens, the focus point, is distributed homogeneously to the signal glass with the help of the Fresnel lens.
Fresnel lenses are commonly used to concentrate the sunlight on solar systems. Fresnel lenses are also used in motion and light detectors as a condenser.
Fresnel lenses are made of from acrylic (PMMA) or polycarbonate (PC) material. There are advantages and disadvantages for both materials in terms of light transmittance and durability. Usually, acrylic material for high light transmittance, polycarbonate material for durability is preferred.