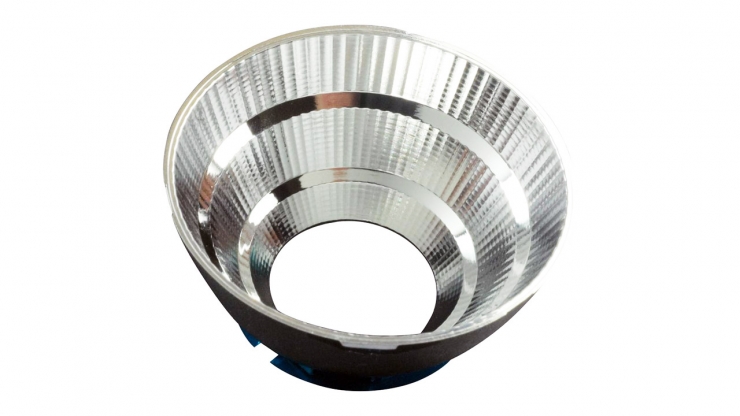 Optical elements that direct the light through reflection and refraction at a certain angle is called reflector. Reflectors gather light, increase the density and direct the light to the surface which desired to illuminate.
The reflector ensures that light emitted from the light source is controlled as desired. There is reflective material inside the reflector to shape the light. It is important that reflecting feature of internal surface is very important for system efficiency.
Reflector is an optical solution which is easy to use and cheap. However, they don't have wide control capacity or flexible application ability according to lenses.
The angle of radiated light and its distribution shape depends on the shape of reflector. The pattern of light can be changed by applying different processes to the reflecting surface of reflector.
Reflectors are usually made of glass, metal or plastic material. Plastic reflectors are covered with metals like aluminum in order to obtain reflecting feature. Aluminum covering will direct the light with high efficiency.
Reflectors are used in general lighting products such as; lamp or light fixtures, automobile headlights, signaling lamps, hand lamps, and similar equipment with light.
Light fixtures require optical materials to distribute the light accurately. In solid-state lightings, secondary optical materials like lenses and reflectors are commonly used.
There are single and serial reflector types with different sizes and different light angles that are used for several applications. Reflectors can be installed to the system by screw, clips or glue.
Using reflectors on a light source is helping to reduce the glare. Placing reflector on a light source does not help to hide the light source. Lenses should be preferred as optical material for applications which desired to hide the light source.