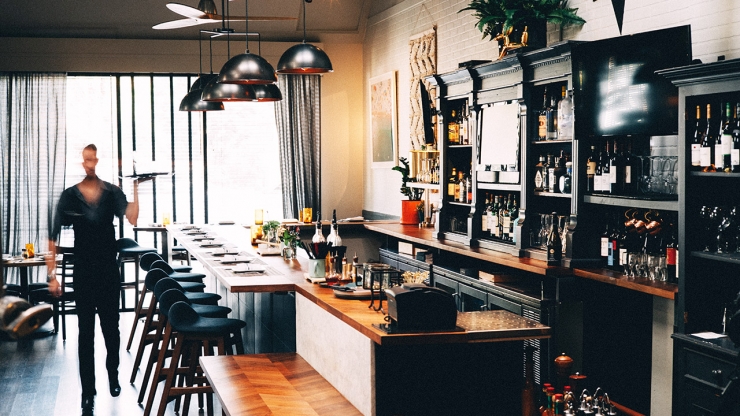 Restaurant lighting is an important part of interior design. The lighting should also be included in the architectural planning of cafes and restaurants. The ambiance of the cafe and restaurant is as important as food and service. You can impress your customers with good lighting and make them visit you again.
Generally, 150 lux light level is recommended in cafes, bars, and restaurants. In other sections of the restaurant; 100 lux entrances, 150 lux in food storage section, 300 lux in washing section, 500 lux light level is required in the cooking section.
Four lighting techniques are applied in restaurants; general lighting, accent lighting, decorative lighting and natural lighting.
General lighting is the most important element in a cafe or restaurant. Lighting equipment that placed in a specific order at equal intervals will provide homogeneous lighting. Having good general lighting will create a more hospitable impression on your customers.
Accent lighting can be used to point out the sections you want to attract attention in the restaurant. That kind of lightings you can draw attention to the decor, plants, tables or products in the restaurant.
Decorative lighting is the accessories with lighting that used to complete your design. Decorative lighting can be done with classical lighting, as well as modern lighting. Also, it can be created by special lighting techniques.
General lighting, accent lighting, and decorative lighting provide all necessary artificial lights in restaurants. However, there is one thing that can not be forgotten; natural light in other words daylight. Sunlight should be brought in by the help of windows. In this way, more comfortable lighting will be provided during the day, also this provides energy saving.
Lighting in cafes and restaurants are made by pendant lighting, chandelier, wall lamp, spotlight, LED bulb and LED filament lamps.
About 10-15% of the electrical energy used in restaurants is due to lighting. For this reason, the need to save energy in cafes and restaurants becomes very important. The maximum amount of daylight should be utilized for energy savings. Energy efficient light sources should be preferred.
Written by Emre Yılmaz – Aydınlatma Portalı, Asya Traffic Inc.