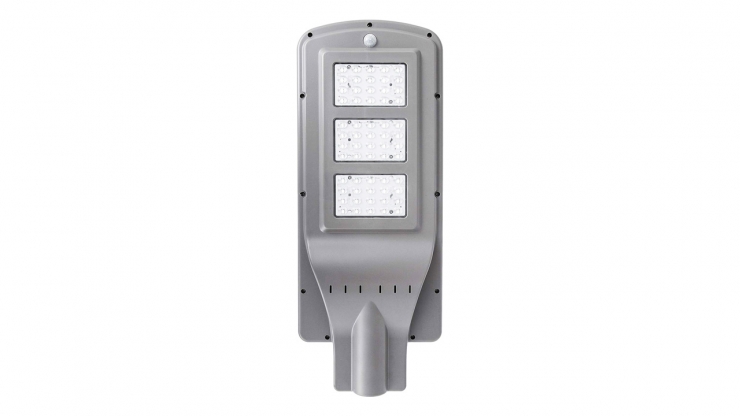 LED street lighting fixtures are modern lighting devices to illuminate roads and streets. LED lighting fixtures have a more complex structure according to the conventional lighting fixtures. Do you wonder what is inside a LED street light?
There is an LED module board front surface of LED street light. There are many high-power LED chips on that board. The electrical connection between the LEDs provided by a printed wiring board in which the LEDs are connected. Printed wiring board is made of aluminum material because it has high heat transfer property.
There are lenses on the LED module which controls the light distribution. Usually, asymmetrical lenses are preferred for the lighting fixtures used for street lighting. Asymmetrical lenses distribute the light according to the road surface. It distributes the light on horizontal surfaces with wide-angle, on vertical surfaces with acute-angle. In this way, it becomes possible to increase the distance between poles in the road lighting project.
LED module mounted on the lighting fixture body with screw. Heat conductive paste is used between the LED module and the case to make the thermal conductivity perfect. LEDs get heated as long as they operate, and this heat is transferred to the aluminum circuit board. The heat on the aluminum circuit board is transferred to the cooler inside the lighting fixture or lighting fixture body which works as a cooler. Therefore, the LEDs will be last long-lasting.
There is a LED driver under the light source. The LED driver used to drive LEDs at the appropriate voltage and current. The LED driver secures the output current by converting the AC (alternating current) mains voltage to DC (direct current). The electrical connection comes to the LED driver secured by a fuse. This fuse is also located in the same place as the LED driver. The electrical terminal is used to connect the cables from the outside to the fuse and the LED driver.
There are light sensors or motion sensors in some professional products. In this way, brightness or switch on/off can be controlled automatically. In some products, NEMA socket connection port can be found for lighting control systems which become standard. The electrical connection between the lighting fixture and the control system can be easily established with the help of NEMA socket.