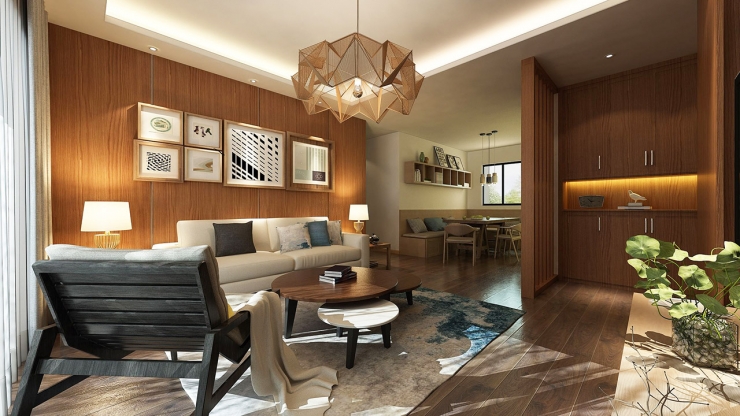 We spent most of our times in living rooms. After a busy day at work, we will find ourselves at our house. Lighting should be designed to meet the needs of relaxing and having good times in our living rooms.
Lighting in the living room is usually only seen as part of the decoration and its functionality is neglected. The lighting elements to be used in the living room should fulfill the task of lighting as well as its elegant appearance.
To make a general definition for the choice of light color in living room lighting; lighting in warm white colors, which means at color temperatures close to 2700K, will help you create a comfortable environment. During the evening, exposure to cold-colored light until late at night can cause sleep problems. Therefore, the lighting in the living room should be used as close to yellow as possible.
Generally, 100 lux light levels are sufficient for the living room lighting. This level can be increased up to 500 lux limits in areas needed by task lighting.
In the living room lighting, chandeliers, ceiling lamps, table lamps, floor lamps, and wall lamps can be used. Lighting can be done with a single chandelier, but it is a good choice to use multiple lighting elements together.
A chandelier to be placed on the ceiling of the living room can handle the task of providing ambient lighting. If you have a stylish fireplace, textured walls and paintings, you can highlight them with the help of spotlights. Table lamps and floor lights can provide decorative lighting that adds intimacy to your living room. If there is a place in your living room where you frequently read, write, or study books, you can place lighting elements such as floor lamp and reading light. You can perform your tasks optimally under this bright, preferably directed light.
Using a combination of different light sources will give your living room an elegant look with regional brightness changes.
Lighting in the living room where guests are hosted should make them feel comfortable and make a good impression on them. To avoid disturbing effects of light, you can use the type of lighting elements that hide the light source. Shadows that hide the light source can cause a slight loss of light. However, it is certain that it will provide a more homogeneous light distribution by softening the light.