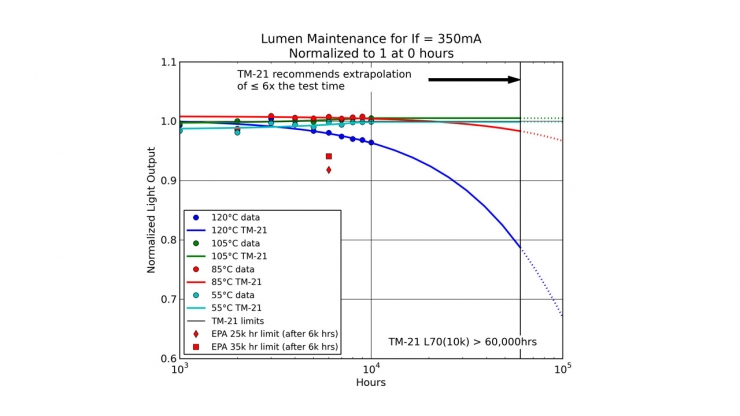 LED technology has longer life span according to previous lighting technologies. However, LEDs tend to gradually deteriorate during the time they are used. This deterioration can be seen as decrease in light output.
LM-80 is a standard which created by Illuminating Engineering Society of North America (IESNA) to measure time-dependent lumen loss. LED and lighting manufacturers are performed proper tests in order to determine the performance of the products over time.
LM-80 test can be applied to the LED package, series or modules. It can not be applied to the whole system. In other words, it cannot be applied to entire light fixture.
LM-80 standard is accepted in many countries around the world. LM-80 and other similar tests are intended to test LED and LED devices in several standard operating conditions.
The LM-80 test should be maintained for a minimum of 6,000 hours, preferably for 10,000 hours. Measurement range should be considered as maximum of 1.000 hours. Light flux (lumen) should be measured in three different temperatures that are; 55°C, 85°C and the third temperature which is designated by the manufacturer.
Light output-hour graphic is generated for specified LED driver as a result of the LM-80 test. There are different curves for different heat values. This graphic shows the time-dependent change in the LED's light output.
LM-80 report contains; information about the light source, environmental conditions, electrical conditions, heat values, lumen values and colorimetric shift over time. LM-80 does not include any method for calculation of life span of a product. TM-21 standard must be used for this calculation.
LM-80 test usually performed by LED manufacturers and the report on the test result is shared with the product technical data. LM-80 test must be performed in accredited laboratory.
Lighting manufacturers and designers have used this standardized data when making led choices. LM-80 report is very important for both LED manufacturers and lighting manufacturers.